Welcome to "Hodogaya Chiku Center".
Hodogaya Chiku Center is a facility that anyone can easily use for the activities such as culture, sports and learning.
There are places suitable for activities of a wide range of years, such as Conference room, Japanese style room, Cooking room, Music room, Craft room, Playroom for children, Entertainment corner, Library, Sports room.
Opening hours
Weekdays 9: 00−21: 00
Sundays and public holidays 9: 00−17: 00
• Elementary school students use until 17:00
• Junior high school students use until 18:00
Location
Address: 1-21 Tennocho, Hodogaya Ward, 240-0003
Phone number: 045-333-0064
Nearest railroad station
• Soutetsu Line Tennocho Station 8 minutes on foot
Nearest bus stop (YokohamaTransportation Bureau)
• Bus stop at Kofukuji 5 minutes on foot
• Bus stop at Miyata Cho 2 minutes on foot
How to use
Regarding the Sports room and Recreation hall, we have free time that you can enjoy badminton and Table tennis without making a reservation.
At free time, please bring badminton tools and shoes. Table tennis too.
You cannot play ball games such as baskets ball at free time.
Please see the table below for free time.


Charged time is the table below.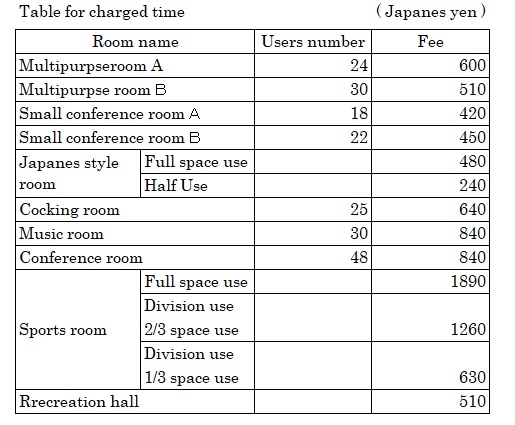 We look forward to meeting you.